In 1956, Seneca Flight Operations started out as a one–man pilot operation, providing corporate air transportation for the company's executives in a small hangar using a 2,800 foot dirt runway located in Penn Yan, New York. Our mission at that time was to meet the travel needs of a medium sized juice company located in nearby Dundee, New York.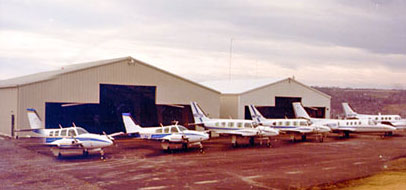 Today, Seneca Flight Operations is a recognized leader in air charter services. The dirt runway in Penn Yan has been replaced by a 5,500 foot grooved asphalt runway and the small hangar has been replaced by a large modern hangar. We have a fleet of four light jets - operating three out of Penn Yan and a fourth at our hangar in Janesville, Wisconsin. Besides our charter business, we support the travel needs of Seneca Foods Corporation, a $1.5 Billion agribusiness leader with over 20 modern processing facilities throughout the United States. Seneca's primary business is canned vegetables and fruits and we are proud to produce 8 cans of healthy, wholesome food for every person in the United States every year.
We also operate the Penn Yan Airport (KPEO) in an agreement with Yates County, New York. This responsibility affords us a unique opportunity to experience aspects of aviation operations and management that most aviation firms can only imagine. From plowing runways in the winter to insuring approach lighting is operating on our two runways, we operate, maintain and manage all aspects of a Level 3 airport and aviation facility.
We thank you for your interest in Seneca Flight Operations and hope to serve you in the future – whether as a charter customer or a visitor to our airport.
What would you like to do now?